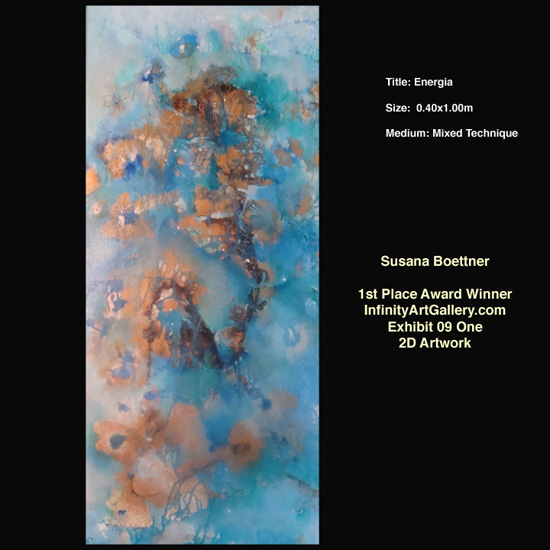 Infinity Art Gallery's premier Exhibit 09-ONE opened August 1, 2009 with a display of 60 pieces selected from over 200 works of art from 14 countries. Artists submitted work from Europe, Africa, the Americas and Asia.

60 finalists were selected for the exhibit and three winners were selected from each category: 2 Dimensional, 3 Dimensional and Photo/Digital Art.
Exhibit 09-One AWARD WINNERS
First Place and Founders' Choice winners (Clockwise in the above image) are: (2D) Susana Boettner, Buenos Aires, Argentina; (3D) Stephen White, Eugene, Oregon, USA; (Founders') Stef Duffy, New York, New York, USA; and (Photo/Digital) Matruka Sherman, Ann Arbor, Michigan, USA.

Second Place winners are: (3D) Roger Reutimann, Boulder, Colorado, USA; (Photo/Digital) Myriam H. Bjerkli, Larvik, Norway; and (2D) Youssef Rami, Toronto, Ontario, Canada.

Third Place winners are: (3D) Bozena Kaluga, London, UK; (Photo/Digital) Virginia Saunders, Columbia, South Carolina, USA; and (2D) Annette Zalanowski, Altoona, Pensilvania, USA.